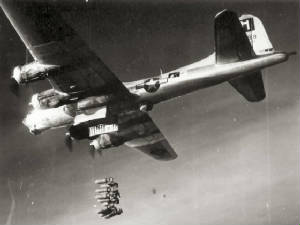 The 388th Bombardment Group

Knettishall, England, 1944
I was formerly T/Sgt. Patrick O'Keef
stationed at Knettishall, England where I saw action in 27 heavy bombardment missions over enemy occupied Europe between 16 March, 1944 and 17 July, 1944 flying in B17s. With the 8th Air Force Bombardment Division, 388th Bomb Group (sq. "H"), 562nd Bomb Squadron.
During that time I was usually the 11th man in the B17 as the aerial photographer. I was also a qualified flight engineer for turret gunner and in many missions flew relief on any of the B17's guns. Many of my missions were in the "Wolf Wagon" with Lt. Daniel G. Houghton, pilot.
All missions were death-defying but the worst one I remember is when we had two engines go out on a return bomb run, and had to ditch in the English Channel. God love our pilot - he put that Flying Fortress into the water as gentle as a feather. All of us servived and where picked up by the British shore patrol. (click here "
The Book
" for more details)
This site is dedicated to all the men and women, home and abroad, that made it possible for us to prevail in WWll. Today the base in Knettishall is a museum and I hope to have a "link" to its website soon.
Below are several photos - one as I was in service and one from today. Time marches on! After service, I became a licensed yacht Captain which title I use today. If you know anything more about the pictures on this Web-site, or the people in them, or just want to share some memories, send an e-mail...I'd love to hear from you.
Keep 'em flying...
(formerly) T/Sgt. Patrick O'Keef